Polk involved in Child Abuse Prevention Month, vigil set for April 23
Print This Post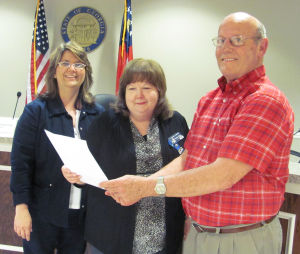 Child Abuse Awareness Month
Rhonda Heuer of Polk Family Council, middle, accepts proclamation from Chairman Marshelle Thaxton of the Polk County Board of Commissioners after the group declared April as Child Abuse Awareness Month. Standing left is Jennifer Hulsey, a local advocate for Parkinson's disease.
A candlelight vigil will be held from 6 to 7 p.m. Wednesday, April 23 and supporters are invited to attend. Polk Family Connection and CASA of Polk & Haralson are asking everyone to park across from Courthouse No. 2 in Cedartown.
Featured during the event will be music, speakers and fellowship to raise awareness to prevent child abuse. For more information about the program, call the CASA office at 770-748-2424 or email [email protected].
As part of this month's observance, the Polk County Board of Commissioners has issued a proclamation to draw attention to the number of children who are abused and neglected. County board members are working in partnership with Polk Family Connection, Exchange and Kiwanis clubs, Polk/Haralson CASA, Department of Family and Children Services, public safety and other agencies.
The statistics reveal how many children are either abused or neglected and the annual cost to taxpayers.
During 2012, Polk County children with a substantiated incident of child abuse and/or neglect (per 1,000) totaled 247 or 20.9 percent. A total of 118 children with a substantiated incident of child abuse and 150 with a substantiated incident of neglect (per 1,000) were noted during the same year.
In 2011, 21,205 Georgia children experienced maltreatment of some type. This included: 1,015 medical neglect, 12,336 neglect, 2,375 physical abuse, 4,536 psychological abuse, 943 sexual abuse. Of this total, 76 children died.
A total of 18,541 were abused or neglected. Of this total, 2,507 children were less than one-year-old, 1,311 at least two years of age and 1,219, age three.
Georgia is ranked as number 37 for overall child wellbeing, which includes economic, education, health, family and community.
National totals in 2011 showed more than 3.1 million children were reported as suspected maltreatment.
Child Protective Services identified 681,000 children as victims of some type of abuse in the United States during the same year. An estimated 1,570 children died from child abuse and neglect.
Records show that the most common form of maltreatment suffered by children is neglect.
During 2012, estimated costs for child abuse or neglect totaled $63,871 billion in the United States. This includes: $2,907,592,094 for acute medical treatment, $1,153,978,175 mental health care, $29,237,770,193 child welfare costs and $34,279,048 law enforcement.
The estimated annual cost of child abuse and neglect during 2012 was from $2 to $3 billion. The estimated costs of child abuse and neglect in 2012 is about $47 billion.
This includes: Special education $826,174,734, early intervention $247,804,537, emergency / transitional housing $1,606,866,538, mental health and health care $270,864,199, juvenile delinquency $3,416,149,283, adult criminal justice system $32,724,767,699 and lost worker productivity $7,834,164,589.
Local partners encourage residents to support efforts to prevent child abuse and neglect by reporting suspected abuse to DFCS at 404-651-9361.
Read the story on northwestgeorgianews.com.

Georgia Family Connection is a statewide network with a Collaborative in all 159 counties.